IoTeX is in the process of constructing the next generation of the internet- The Internet of Things (IoT). This new development will be unlike any other, as it will allow every device to be connected and interact with one another. Gaining 111% overnight in once instance, is another IOTX rally possible? Let's dive into this IOTX price prediction to find out.
The IoTeX network is an open-source blockchain protocol that provides scalability, privacy, and interoperability solutions for connected devices. It offers its own developer tools to enable the development of IOTX-powered dApps.It's also Ethereum Virtual Machine (EVM) compatible, making it simple for Ethereum developers to migrate contracts without having to rebuild them from the ground up. According to IoTeX, its blockchain executes transactions quickly and with minimal gas fees.
The IoTeX blockchain is a Proof-of-Stake system that enables users to earn rewards for their contributions to the network, which are then distributed based on the amount of stake that each user has in the system. IOTX holders can also vote for delegates who help ensure network security. Lastly, IOTX currency transaction fees within the IoTeX network.
Burning a portion of the token's overall supply on a regular basis lowers the amount available and keeps the IOTX value stable. The IoTeX has emerged as a winner of the IoT (internet of things) blockchain race, as it is the token with the highest gains right last May, owing to the latest technology advances the IoTeX has been developing and launching, making it more useful for businesses and practical life, especially connecting machine-human interface.
Today's IoTeX price is $0.027611 with a 24-hour trading volume of $12,414,524. IoTeX is down 2.44% in the last 24 hours. The current CoinMarketCap ranking is #113, with a live market cap of $263,429,672. It has a circulating supply of 9,540,779,324 IOTX coins and a max. supply of 10,000,000,000 IOTX coins.
Also Read:
Who are the founders of IoTEX? 
IoTeX launched in April 2019 and has already processed 10 million transactions. The founders of IoTex are Qevan Guo, Raullen Chai, Jing Sun, and Xinxin Fan.  
Raullen Chai co-founded IoTex and is an advisor at BootUP ventures as well as a member of the Industrial Distributed Ledger Task group at the Industrial Internet Consortium. Another original member of the IOTX coin, Jing Sun is currently working as a managing partner at Sparkland Capital. She is also an angel investor with Rippling and an LP Investor with Polychain Capital.
How does IoTeX work? 
Since its invention, the Internet of Things (IoT) has been altering our daily lives. It has drastically altered how the physical world works both in our personal and professional lives. This technology hasn't only helped people work smarter but has also allowed for seamless sharing and access to data across the globe. This is accomplished with the use of IoT and smart devices, allowing IoTex to link blockchain technology with IoT and smart gadgets in a more effective, secure, and quick manner.
IoTex is a groundbreaking blockchain network that gives machines and humans the power to interact with one another without boundaries. IoTex offers users complete control over their data, as well as privacy and security when conducting online transactions. The key goal of IoTex crypto is to guarantee that consumers can own and manage the value and data they produce. Users may now utilize a variety of services thanks to the network's ability to integrate the digital world with the real world.
IOTX is the native currency of IoTex. The price of IOTX coins is $0.124 as of December 9, 2021. It has also gotten a lot of praise and credit in several cryptocurrency publications and websites. After the steep climb in prices of 150%, investors and traders would discover one IOTX coin news almost every day.
Key features of the IoTeX network
Roll -Delegated-Proof-of-stake (Roll-DPoS) consensus
Layer 2 chain 
Edge trusted computing 
Cross network interoperability 
IOTX Price History
On 3 November 2021, IOTX performed its first burn drop, preempting a massive rise in the value of IOTX, which rose from $0.07817 to $0.1659 in a day – a 112 percent bull run. This was the first time the token had shown any enthusiasm since its early 2018 initial coin offering (ICO).
IOTX gained significant momentum early on, but it gradually declined in the following weeks until it hit bottom at $0.1117 on January 17th, 2022-a whole 50% drop from its peak. In February, IOTX took another nosedive below $0.07; however, by April 19th it had risen slightly above that line again.
Since then the digital asset has been making higher lows and higher highs, culminating with its 3 months high of $0.042 on 8/17/2022.IOTX has been declining towards a September low of around $0.02651.
IOTX Technical Analysis
IOTX price analysis indicates the digital currency has followed a declining channel from a month high of $0.03454.IOTX coin gained momentum at the start of September as it surged to a high of $0.03179 but was turned around at this level. The market price fell to a low of $0.02705, which is where it found support and began an upward move that took it to the resistance line of the descending channel.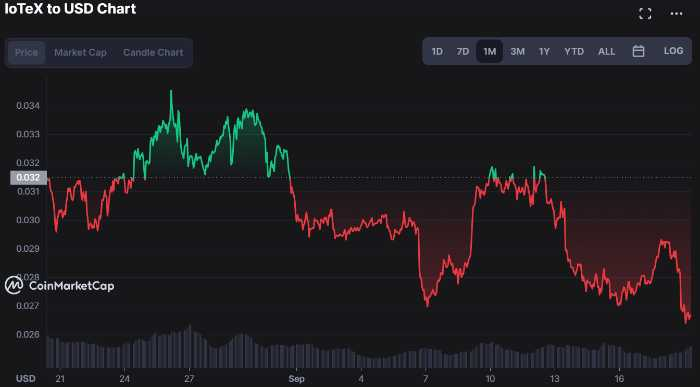 The IoTeX bulls pushed the price up but were resisted at the descending channel resistance line, which forced the market to fall. The bulls bought the dips as the market fell to $0.02702 but failed to break the descending channel. This indicates that selling pressure is present in the market and the IOTX current price is $0.02671, down by over 8 percent.
The Relative Strength Index (RSI) is level 47, which indicates that the market is in the sideways range-bound zone. The IoTex's price will face resistance at the $0.02906 and $0.03105 price levels.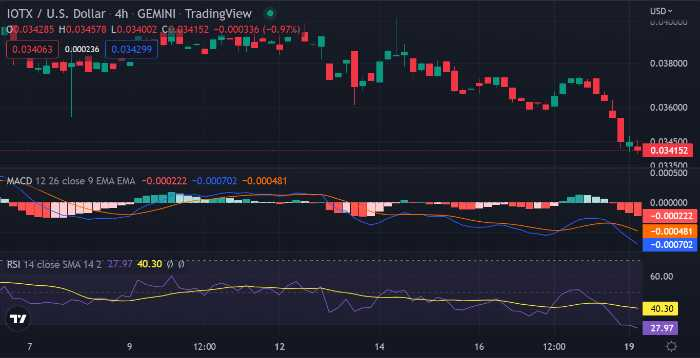 On the downside, support lies around $0.02651, which is the September low. A break below this level will complete a descending triangle pattern that has a bearish outcome.
The IOTX price is currently below the 200-day SMA, which is a bearish signal. The market will continue to decline as long as the price is below this moving average. All the other moving average time frames are also below the price, which is a sign that the market is in a bearish trend.
The MACD line is currently below the signal line, which indicates that the IOTX market is in a bearish trend.
IOTX technical analysis shows that the digital currency has started a downward move after failing to break the descending channel. The overall price analysis shows an extremely bearish scenario, and the market is expected to decline to the September low at $0.02651.
IOTX Price Predictions by Authority Sites
Digital Coin Price
Digital Coin Price has given an average IOTX price forecast as the website believes the IOTX will develop in the long term. The site has given price predictions for 2022, 2027, and 2030. For 2022, the average IOTX price is expected to be around $0.0342 and the digital asset is expected to trade at a maximum price of $0.0374 by December 2022.
In the long-term IoTeX price predictions, The website predicts IOTX could be potentially trading at an average price of $0.13 and by 2030 the token might attain a maximum trading price of $0.37.
Trading beasts
According to Trading beasts, their predictions suggest IoTeX price is forecasted to reach $0.0410897 by the beginning of December 2022. The expected maximum price is $0.0513621, a minimum price is $0.0349263. The IoTeX price prediction for the end of the month is $0.0410897.
Following 2023, IoTeX price is forecasted to reach $0.0406140 by the beginning of January 2023. The expected maximum price is $0.0507675, the minimum price is $0.0345219. The IoTeX price prediction for the end of the year 2025 is $0.0406140.
Wallet Investor
The IOTX coin price prediction at WalletInvestor is bullish. The forecaster's 12-month price target of $0.091 – if proved correct – would bring a 167% return at current prices, while its five-year target of $0.31 is more enthusiastic still. The site terms IOTX as a "good long-term" investment as they expect the price to increase significantly in the next year.
Cryptopolitan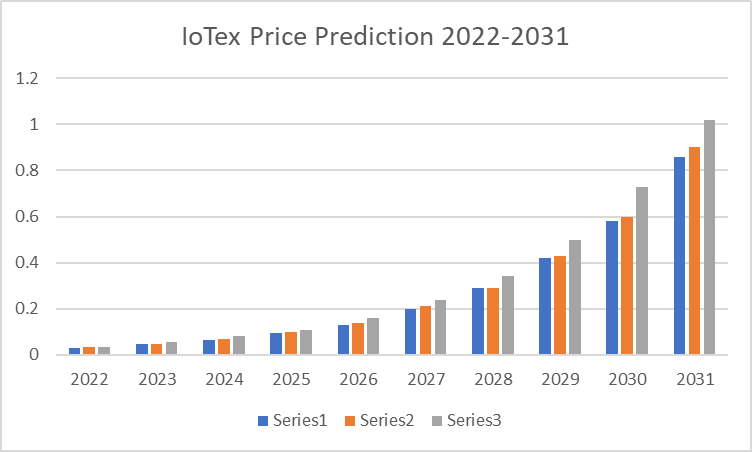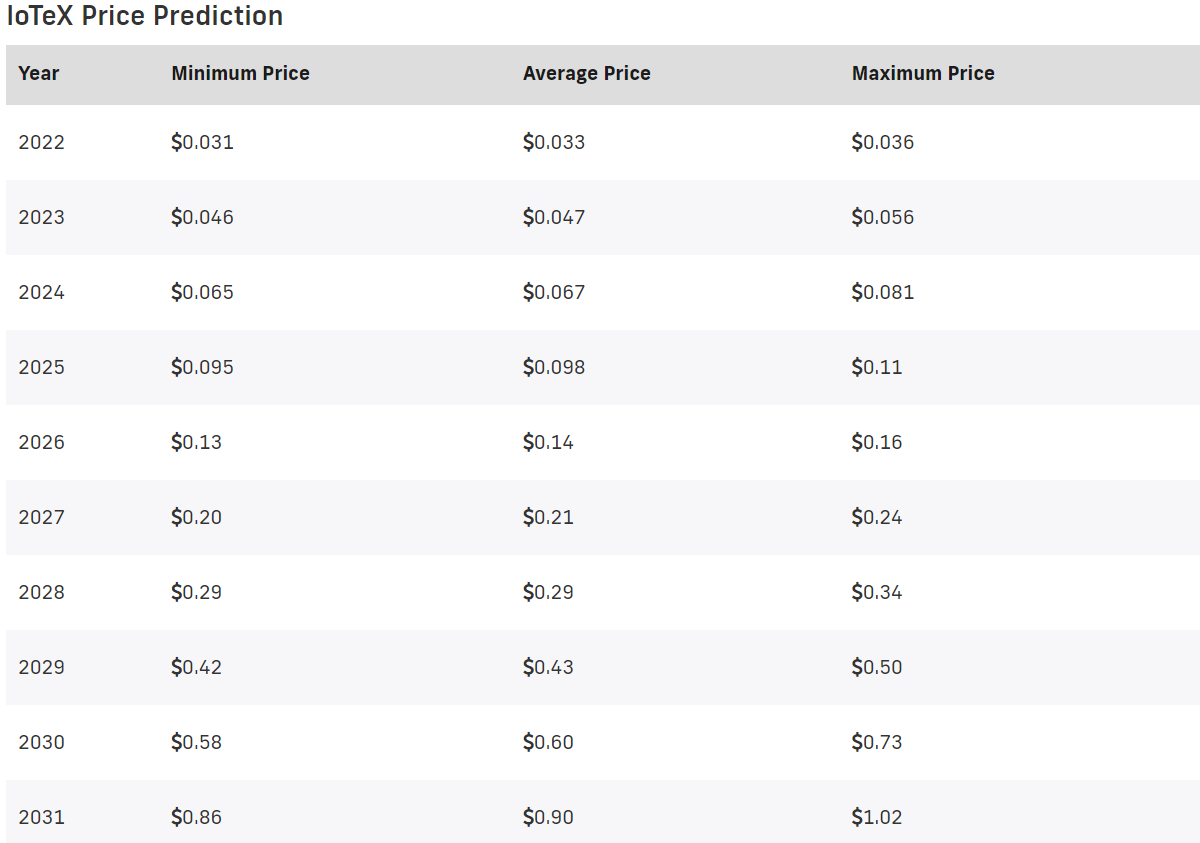 IOTX Price Prediction 2022
Based on the current market trend, The IOTX price prediction for 2022 suggests the IOTX token could end the year with a minimum price value of $0.031 and an average price of $0.033.The maximum price forecast is $0.036.
IOTX Price Prediction 2023
IOTX price forecast for the year 2023 suggests IOTX token is anticipated to make significant price changes and the highest price that is likely to be attained is $0.056.The token could retrace to an average price of $0.047 by the end of 2023 with a minimum value of $0.046.
IOTX Price Prediction 2024
The IOTX coin is estimated to climb to a maximum price level of $0.081 by the end of 2024. The IOTX price could retrace to an average value of $0.067 and a minimum value of $0.065 during the year 2024.
IOTX Price Prediction 2025
As per the 2025 IOTX forecast, the token is expected to attain a maximum price value of $0.11. The IOTX price could retrace to an average value of $0.098 and a minimum value of $0.095 during the year 2025.
IOTX Price Prediction 2026
By 2026, the IOTX token might attain a maximum level of $0.16. The IOTX price could fall to an average price value of $0.14 and a minimum price value of $0.13 during the year 2026.
IOTX Price Prediction 2027
By 2027, the expected maximum price is $0.24 if the bulls continue to dominate the market. The IOTX price might retrace to an average value of $0.21 and a minimum value of $0.20 during the year 2027.
IOTX Price Prediction 2028
The IOTX token could attain a maximum price value of $0.33, an average trading price of $0.19, and a minimum price of $0.29.
IOTX Price Prediction 2029
By 2029, IOTX could potentially attain a minimum trading price of $0.42, an average price of $0.43, and a maximum price of $0.50.
IOTX Price Prediction 203
In 2030,IOTX is estimated to reach a minimum price level of $0.58, an average price of $0.60, and a maximum trading price of $0.73.
IOTX Price Prediction 2031
By 2031, the cryptocurrency market might correct itself, and the IOTX price could potentially reach a minimum of $0.86, an average of $0.90, and a maximum value of $1.02.
Conclusion
IOTX is a project with a lot of potentials. It has a strong team and further partnerships. The technology is sound and they are constantly improving it. The mainnet is live and they are working on adoption.
The downside is that the crypto market is very competitive and adoption will be difficult. They also have a lot of competition from projects with more established communities.
The price is forecasted to increase in the next years. IoTeX is a relatively new blockchain that was established just over three years ago. So far, the IoTeX network's potential has shown to be immense. We'll likely see more IoT devices and DApps created on the network as a result of its capabilities, which will influence IOTX's overall price. 
The predictions are our opinion and not investment advice as cryptocurrencies are highly volatile. The predictions are based on IOTX's past performance and current trends and so investors are advised to conduct their own research before investing.
Iotex could potentially be a very good long-term investment as the price is forecasted to increase significantly in the next few years. The technology is sound and they have a lot of potential partnerships.
Disclaimer. The information provided is not trading advice. Cryptopolitan.com holds no liability for any investments made based on the information provided on this page. We strongly recommend independent research and/or consultation with a qualified professional before making any investment decisions.


Source link